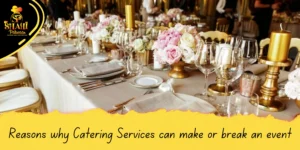 Food is the main happiness when it comes to functions and the best way to attract guests. Making an event a grand success lies in how well you plan and execute it. There are so many event planners to ease up this job and catering services are one among them to glorify or break your event be it a wedding or birthday party.
1. Food Quality: The best quality of relying on catering services is they can offer sumptuous food for events at reasonable packages for accommodating multiple guests. Providing low-quality foods can embarrass your guests and spoil their mood for partying at the event.  The audience will be pleased with the taste and hospitality and will recommend the catering name to others. Choosing the right catering for your event can warm the visitors by offering high-quality food.
2. Service Quality: Service quality is important to mark the reputation of any business among customers. In that line, hospitality is one key quality that will welcome the guests with the right decoration and food serving. The impact of poor service and food quality can affect the business by lowering the trust of customers. Paying close attention to customers' food requirements and implementing them in the menu adds more value to services.
3. Importance of Attention to Detail in Catering: After carefully analyzing the customer's requirements, planning is an important step to achieving the targeted outputs in the function. Apprehensive planning can help in overcoming unexpected situations like food wastage or scarcity. Planning mainly covers food menus and sharing them with the clients and adding or deleting certain items based on their wishlists. Supplying the prepared food at the desired party halls, providing dining table accessories, and decorating the food area come under effective planning.
Choosing a professional catering service is important as they can plan the food better with ideas based on their vast experience in the field. This will reduce your burden and help them brighten your special event with their extraordinary services.
4. Flexibility and Adaptability
Flexibility and adaptability are two significant features looked for in a good caterer. First, the catering service must be flexible enough to the sudden changing requirements of the client in case they want to change the menus anytime before the event. Also, the catering service professional must be able to provide an adequate food supply in case the crowd exceeds the anticipated count. An alternate plan must exist if there is more demand for food to satisfy the guests at the event.
The best benefit of providing quick delivery in such critical circumstances will add to the service provider's profile and make them reliable catering suppliers. On the other hand, a rigid and inflexible caterer will be considered an underrated performer when it comes to customer satisfaction. They will lose many business deals due to their demeaning behavior in dealing with prospective customers. A good caterer must follow professional ethics by being kind and patient to even harsh clients.
5. Presentation Skills in Catering: Presentation is the best skill to attract potential businesses by drawing their interest in the catering service. Apart from preparing tasty foods, the caterer must serve it neatly on the serving plate to make a warm smile on the client's face. An experienced catering service will have a team of service professionals who will greet the guests with a smile and serve them based on their preferences. A tasty food menu that lacks presentation and involves spills during serving will give a clumsy look and displease the guests. So, employ a caterer who will do the job like a pro and escort the waiting guests at the table till they get seated for food.
6. Cost: Price is the next deciding factor when it comes to choosing catering services. Always choose a catering provider who reveals the pricing upright with all the food menu details. Compare pricing with other caterers and their services and decide smartly. A caterer who serves less menu and charges highly must not be considered as they aim in emptying your pockets. However, some caterers charge slightly high for the amazing food quality with less number of items on the menu platter. Choose based on your budget and it is suggested to choose a caterer that offers many varieties at a reasonable cost as you need to feed a huge crowd.
Faqs
1. How can catering services make or break an event?
A: Catering services can make or break an event because the food and service provided can greatly impact the guest experience. Poor quality food, slow service, or unprofessional staff can create a negative experience for guests, while delicious food and exceptional service can leave a lasting positive impression.
2. What are some common mistakes made by catering services?
A: Some common mistakes made by catering services include not providing enough food, serving food that is cold or overcooked, failing to accommodate guests' dietary restrictions, and providing poor customer service.
3. How can event planners ensure they choose the right catering service?
A: Event planners can ensure they choose the right catering service by researching and reading reviews of potential catering companies, sampling their food, and asking for references from previous clients.
4. What should guests do if they are unhappy with the catering service at an event?
A: Guests who are unhappy with the catering service at an event should first address their concerns with the event planner or catering manager. If the issue is not resolved, they can provide feedback to the catering company and leave a review to help others make informed decisions in the future.
Conclusion
Food is an instant pleasure to anyone and that is the sole reason people attend functions. Make sure you choose the best catering services to treat the taste buds of the guests and win their hearts. Let them indulge in the delicacy of mouth-watering foods and make lifetime memories. Choose Shahi pakwaan caterers in Hyderabad for all your events to make it a grand mela with their tasty recipes and professional serving skills