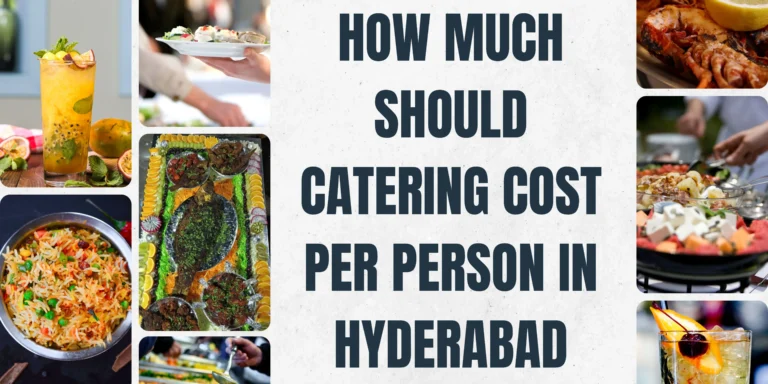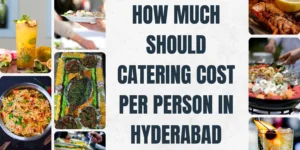 If you are looking forward to hiring a caterer for your event anywhere in Hyderabad, then it is important to fix the budget. One of the key factors to consider is the catering cost per head or plate to have a prior plan on the number of guests to be invited. This cost is decided on various factors like food type, quantity, and the number of guests. This will help to plan an event economically by saving a reasonable amount of money. In this post, we will try to understand in detail the factors that will decide the catering costs per person in Hyderabad.
Average Catering Prices in Hyderabad
Shahi pakwaan is a prestigious catering service provider in Hyderabad that provides a full-fledged meal plate to the guests by warming their hearts. We take care of end-to-end services right from welcome drinks to different cuisine food menus to water bottle supplies that are taken care of by our dedicated waiter staff. Our staffs address the guest's needs throughout the event by offering lip-smacking yummy dishes to your table with full zeal.
Looking for On-site Bawarchi Service in Hyderabad?
At Shahi pakwaan, we have a dedicated team of Biriyani experts to cater to all your on-site food requirements. Our team will be available to provide on-site Bawarchi services at the desired location ensuring maximum comfort for the clients. They are open to travel and work hard to meet the cravings of the guests with their flexibility to work in different time zones.
Catering Prices based on Cuisine Types
If you opt for two or more cuisines on your menu then the charges would be nominal. For example, if you select 15 dishes from both vegetarian and non-vegetarian it would be considered as a combo and the charges apply accordingly. The charge per plate would be anything between 450 and 600 and you get a chance to try different cuisines of foods at affordable prices. However, if you stick to single cuisine like vegetarian alone then the rates charged will be slightly higher which could be around 350 rupees per plate. If your clients prefer foods from multiple cuisines, then choose styles from different cuisines to treat their taste buds and save your money. A single meal plate rate starts from 250 rupees covering the basic dishes which in very much affordable for common people too.
What to discuss with shahi pakwaan Caterers for Catering Services?
1. Discussing the Menu
If you want your event to go well then plan your menu well before and discuss it with the catering partner to know what works well. Some dishes may not be feasible on your menu. So, discuss it with the caterer and sort it out and choose alternate foods to avoid last-minute ambiguities. First, decide whether you are going to serve veg or non-veg food and then identify the signature foods in the preferred cuisine by the caterer by interacting with them. We have a menu card for different events and we can customize the menu according to the client's requirements to provide maximum customer satisfaction.
2. Be aware of what costs are included in the final bill
Some caterers add hidden charges in the name of taxes to the bill. So, check the bills to ensure the charges are appropriate according to the meals and match the headcount.
3. Number of guests and Venue Location
Communicate clearly to the caterer the quantity of food or the number of plates to be served along with the event location and date. Give them ample time to prepare foods to fulfil the cravings of your guests by serving them some delectable food varieties.
Conclusion
Shahi pakwaan professional caterers provide impeccable catering services to all the clients in Hyderabad with their mouth-watering dishes to the crowd. We offer authentic foods for all types of events to make them more memorable. Our staffs travel along with the guests to know what they like to taste and treat them with the utmost respect as a gesture of kindness.
FAQs
1. What type of cuisine options are available with shahi pakwaan caterers?
South Indian, Deccan Indian, Arabian, Lucknowi, Chinese, and North Indian are different types of cuisine options available at shahi pakwaan.
2. Does shahi pakwaan caterers provide on-site Bawarchi services?
Yes they do provide on-site Bawarchi services by outsourcing their cooking team to the clients location to meet their food requirements. Bawarchi Biriyanis are sumptuous foods that clients would love to explore in their travel destinations. We can treat their cravings with yummy Biriyanis prepared by our expert cooking staff.
3. What type of catering services do shahi pakwaan caterers provide?
Different services like veg catering, non-veg catering, outdoor catering, birthday party catering, corporate catering, wedding catering, home-cooked food delivery, and get-together party catering is taken care of at ease by shahi pakwaan caterers.